Product Description
Automotive 14-way APEX 2.8MM connector system

Once a cable harness has been produced, it is often subject to various tests to ensure its quality and functionality. A test board can be used to measure the harness' electrical capabilities. This is achieved through the input of data about a circuit which one or more cable harnesses will be part of being programmed into the test board. The harness is then measured for its ability to function in the simulated circuit.
Another popular test method for a cable harness is a 'pull test', in which the harness is attached to a machine that pulls the harness at a constant rate. This test then measures the cable harness' strength and electrical conductivity when pulled against a minimum standard to ensure that cable harnesses are consistently effective and safe. We do terminal pull test per hour, and 100% for crimped terminal inspection before assembling.
A wire harness must also be manufactured with a terminal, defined as "a device designed to terminate a conductor that is to be affixed to a post, stud, chassis, another tongue, etc., to establish an electrical connection." Some types of terminals include ring, tongue, spade, flag, hook, blade, quick-connect, offset and flagged.
For automotive wiring harnesses, the reliablility and safety is always the top first, our engineers focus on the customers concern. All process standardized by IPC 620 and quality ensured by IATF16949. (APQP, PPAP, IPC620 standard, Milt-process, Special test)
Our quality monitored by own testing equipemnt, such as 2D-measure machine, tensile tester, metallographic analyzer, X-ray perspective instrument, electric tester, bending tester, static test machine, section-anaysis for crimping, aging test machine, etc. All controlled by MSA, SPC, process flow chart and control plan, P-FEMA, etc. We also cooperated with the thrid party testing organization for some special test, like salt spray test, thermal cycle or some authority test.
We also sell Wire Harness, Connectors, Custom Cable Assemblies, Automotive Wire Assembly,Customized Cables and Connectors overmolding.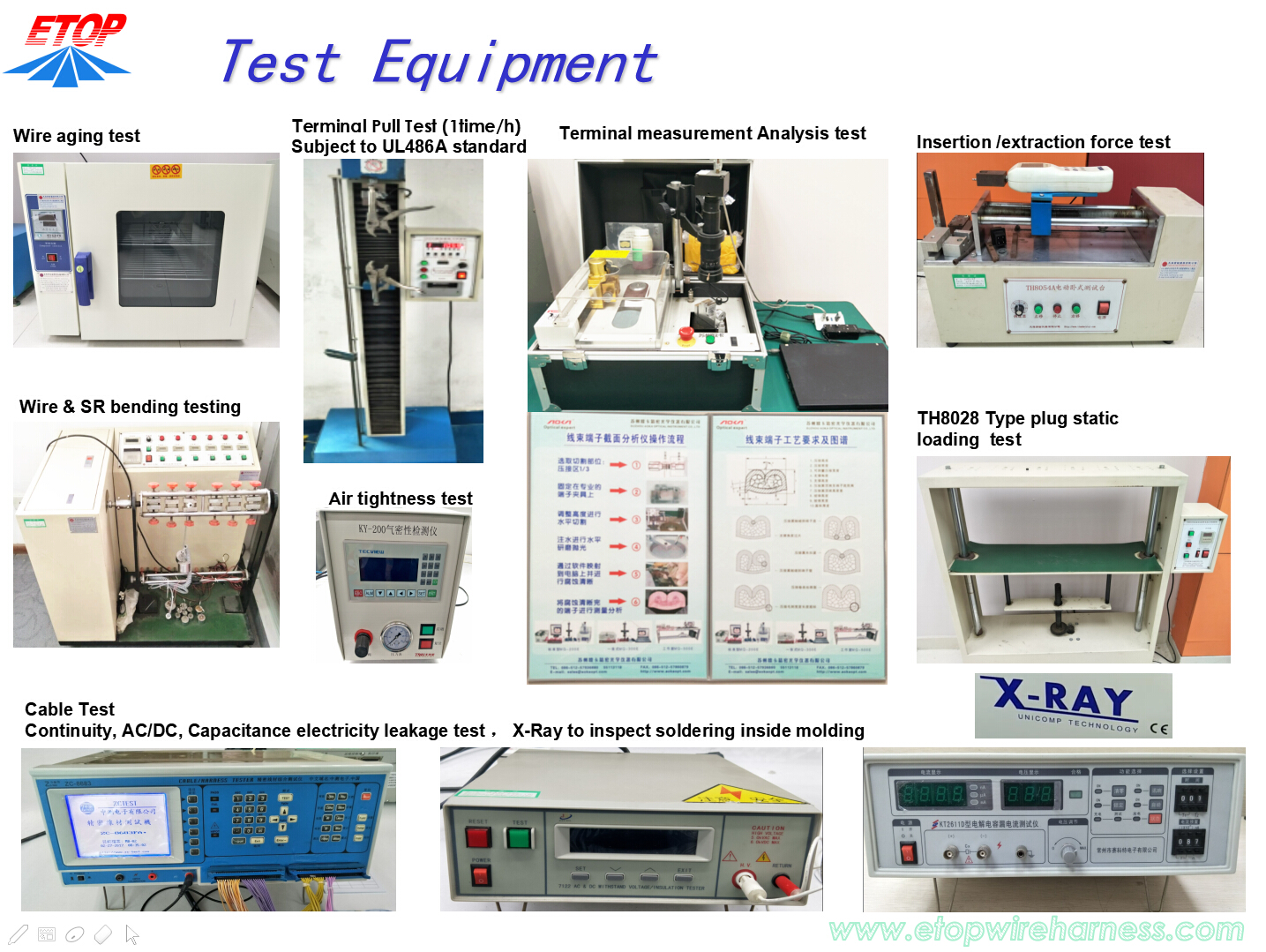 We have developed a tradition of high-tech engineering, prototyping, and quality custom cable assembly manufacturing at very competitive pricing. Also with professional flow chart (wire cutting-stripping-copper twisting-crimping-crimping 100% inspection-soldering-molding-asssembling-braiding-testing-FQC100% -OQC) , which can help us support customers with stable quality.
We have wide range of materials source as below, also we can support customers to make a customized one to replace the original ones.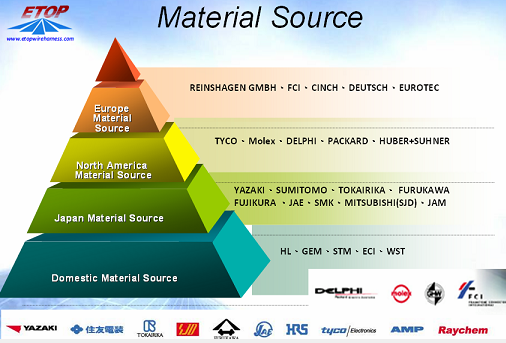 With more than ten years of experience and capabilities assisting our customers in various industry, ETOP would be confident to be your qualified AVL and reliable manufacturing partner. Just be free to contact us if you need any wire harness solutions or partner for your products. Our professional and experienced team would support you by satisfied skill and service.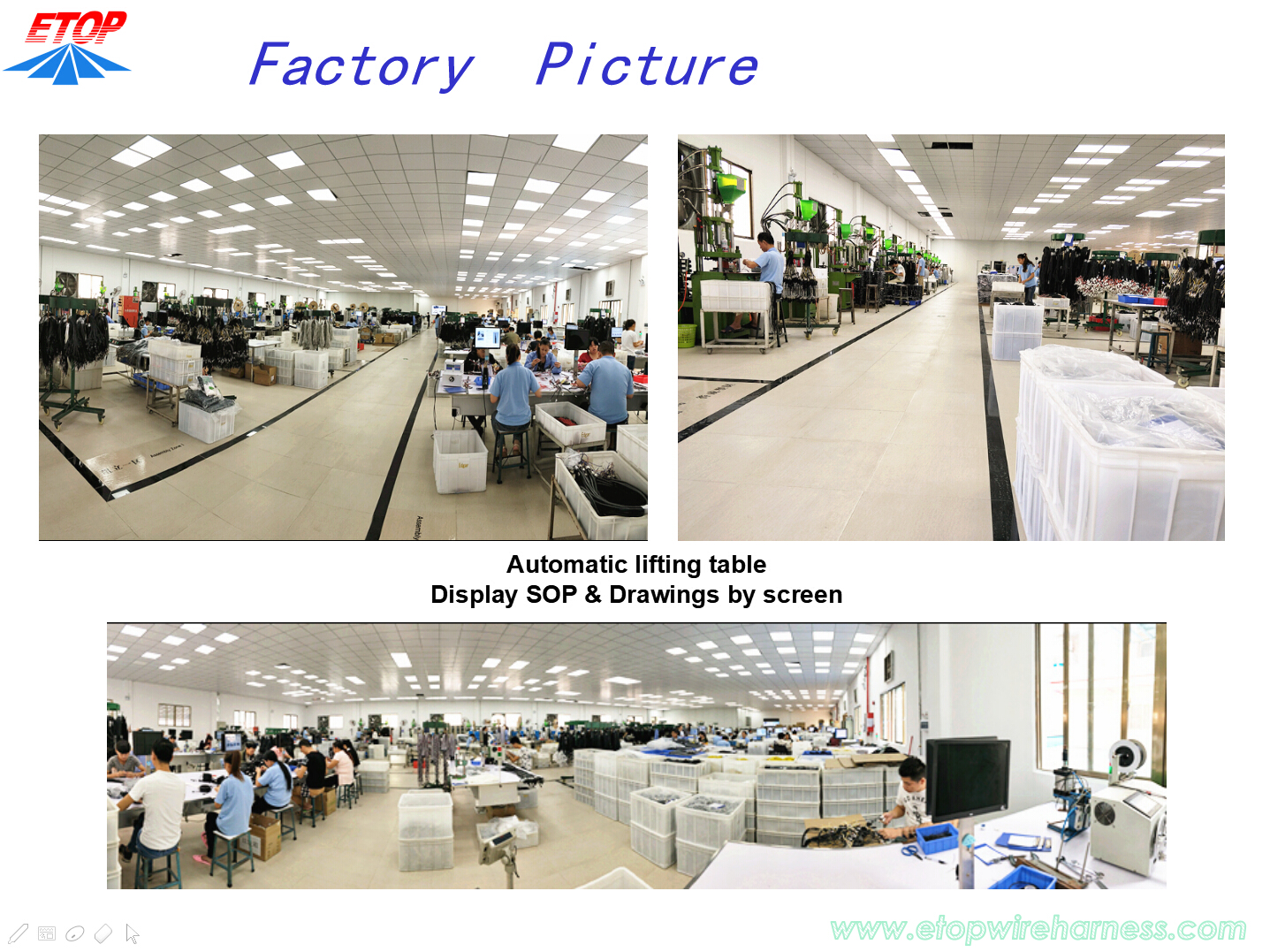 Etop wire assemblies for various industries have been highly recognized by all the customers and widely used for automobiles, electrical and mechanical, medical industry and electrical equipemnts, etc. Products like, wire harness for car audio, power seat, rear-view mirror, POS ATM, Diesel valve Cover gasket fit, elevator, game machine, medical equipment, computer, etc.