Product Description
Custom Flat OBD Diagnostic Cable
Our Custom OBD Connectors are ODM products, the terminal, plastic connector all processed by ourselves. The connector outside molded shape can be customized by straight or 90degree. Experienced proposal can be offered to customers for evaluation by considering stable quality and competitive price. This information is then presented to our R&D Team for analysis. Depending on the complexity of the issue, our team will either suggest a tried-and-true solution we`ve used in the past for other satisfied clients, or draw up ideas for a unique solution.
ETOP is with you every step of the way. we have internal design, prototype,and manufacturing the widest range of
OBD2 connectors
, which can support customer by short L/T and most competitive price.
Once the problem has been verified, we can move forward to the solutions stage. At this point our Engineering staff take-over and begin by:
1. Taking measurements and electrical readings
2. Creating 2D CAD Drawings and 3D models using industry-standard software
3. Printing 3D prototypes using our state-of-the-art 3D Printer
4. Create Tooling and over-mold samples (Toll Shop located on-site)
5. Test samples for durability, quality and, most importantly, problem solution
We`ll make sure to keep you in the loop by consulting you every step of the way. Once you receive you First Article Samples you can get started on testing. We encourage you to give us feedback especially if it`s not performing like you would like it to. Remember R&D is often time trial and error.
We make OBD connector with terminal by ourselves, soldering type and crimping type are both available. Also molded by different type, straight type or right-angle type.
The OBD conenctor cables used for Audi, Honda, Toyota, BWM, etc.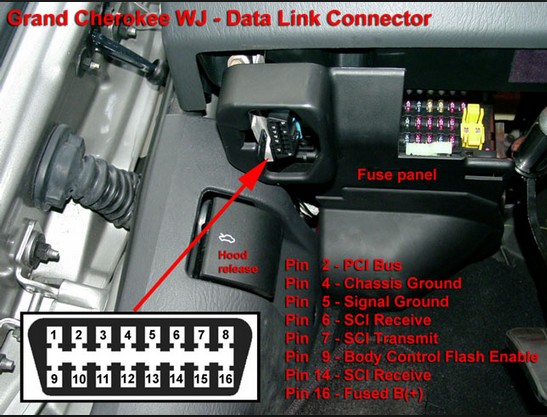 We have developed a tradition of high-tech engineering, prototyping, and quality custom cable assembly manufacturing at very competitive pricing. Also with professional flow chart (wire cutting-stripping-copper twisting-crimping-crimping 100% inspection-soldering-molding-asssembling-braiding-testing-FQC100% -OQC) , which can help us support customers with stable quality.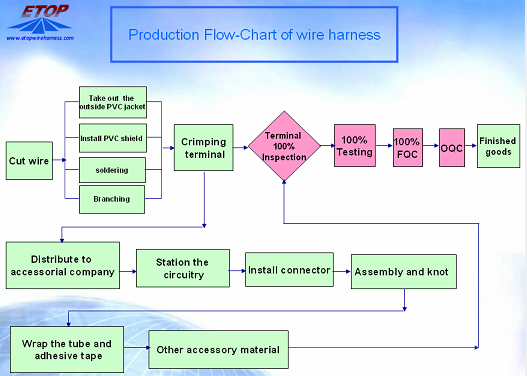 We have wide range of materials source as below, also we can support customers to make a customized one to replace the original ones.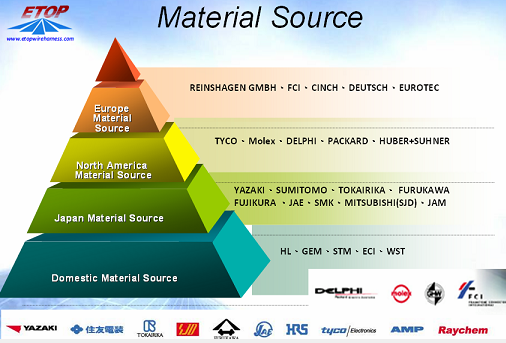 With more than ten years of experience and capabilities assisting our customers in various industry, ETOP would be confident to be your qualified AVL and reliable manufacturing partner. Just be free to contact us if you need any wire harness solutions or partner for your products. Our professional and experienced team would support you by satisfied skill and service.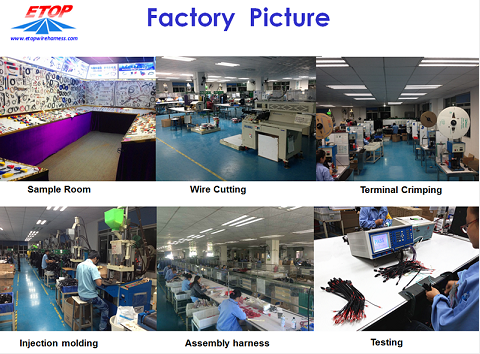 Etop wire assemblies for various industries have been highly recognized by all the customers and widely used for automobiles, electrical and mechanical, medical industry and electrical equipemnts, etc. Products like, wire harness for car audio, power seat, rear-view mirror, POS ATM, Diesel valve Cover gasket fit, elevator, game machine, medical equipment, computer, etc.