Product Description
Custom MDR Connector Assemblies
Mini Delta Ribbon (MDR) Connectors
MDR enjoys widespread acceptance by offering a combination of design features:
Shielded shells provide EMI/ESD protection
Pre-loaded ribbon contacts provide proven reliable connection
IDC U-shaped contacts allow mass termination
Wide range of pin counts and form factors enable design flexibility
We have local equivalent connector, also original from 3M type, who is continually developing its products to meet your I/O needs. The current range of MDR system components can easily be expanded to meet the specific requirements of a broad range of applications.
The MDR connector system contains a ribbon-style contact based on 0.050" centerlines. Both the receptacle and the mating plug contain pre-loaded contacts for reliable contact during insertion and withdrawal cycles. The cable connectors utilize an insulation stripping U-contact to connect to the cable conductor wires. The contact is stamped from a high performance copper alloy, which provides an excellent combination of mechanical strength, electrical conductivity and corrosion resistance.
We have developed a tradition of high-tech engineering, prototyping, and quality custom cable manufacturing at very competitive pricing. Also with professional flow chart (wire cutting-stripping-copper twisting-crimping-crimping 100% inspection-soldering-molding-asssembling-braiding-testing-FQC100% -OQC) , which can help us support customers with stable quality.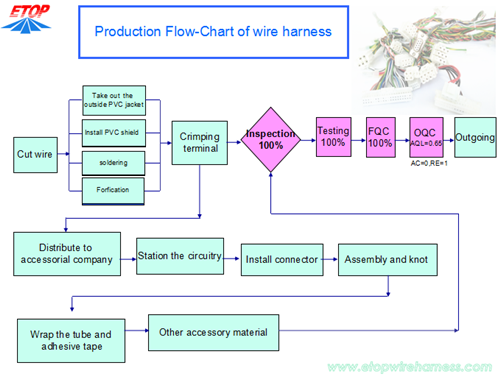 We have wide range of materials source as below, also we can support customers to make a customized one to replace the original ones.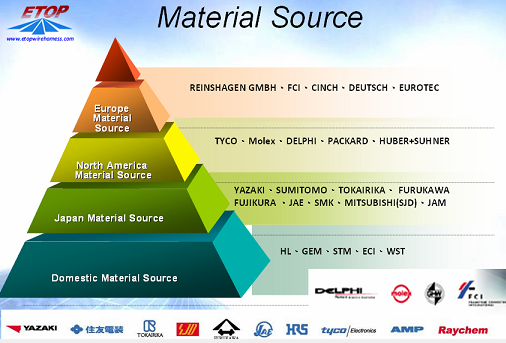 With more than ten years of experience and capabilities assisting our customers in various industry, ETOP would be confident to be your qualified AVL and reliable manufacturing partner. Just be free to contact us if you need any wire-harness solutions or partner for your products. Our professional and experienced team would support you by satisfied skill and service.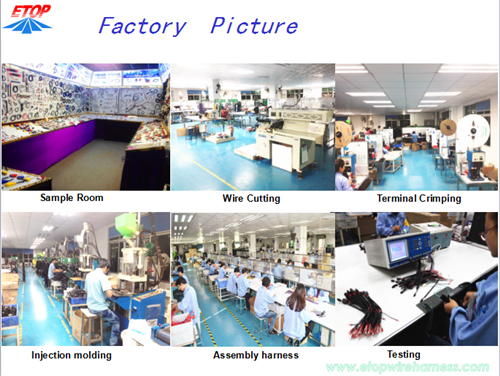 Etop wire assemblies for various industries have been highly recognized by all the customers and widely used for automobiles, electrical and mechanical, medical industry and electrical equipemnts, etc. Products like, wire harness for car audio, power seat, rear-view mirror, POS ATM, Diesel valve Cover gasket fit, elevator, game machine, medical equipment, computer, etc.