Product Description
OEM/ODM Wire Harness Assy With Molex Sealed Connector
1, This OEM/ODM Wire Harness Assy With Molex Sealed Connector used for automobile. The type connector is original one by waterproof type with seal. The whole cable assembly covered by corrugated tube for protection. Also fixed by 3M tape around the branching part. Related auto wires can be choosed as customer requirement, like AVSS, AVS, FLRY, TXL, GXL, etc.

This custom electric cable assemblies assembled with molex connectors. The cables processed following by IPC620 standard strictly, and the dedicated team can support customers with much more suggestions and techniques for developing new products efficiently. All these can help customers shorten the L/T a lot with most competitive cost and stable quality. ETOP has the Flexibility and Capacity to accommodate a product's life cycle, design through production. ETOP can work with Customer from a product's inception to ensure maximum performance at the lowest possible manufactured cost.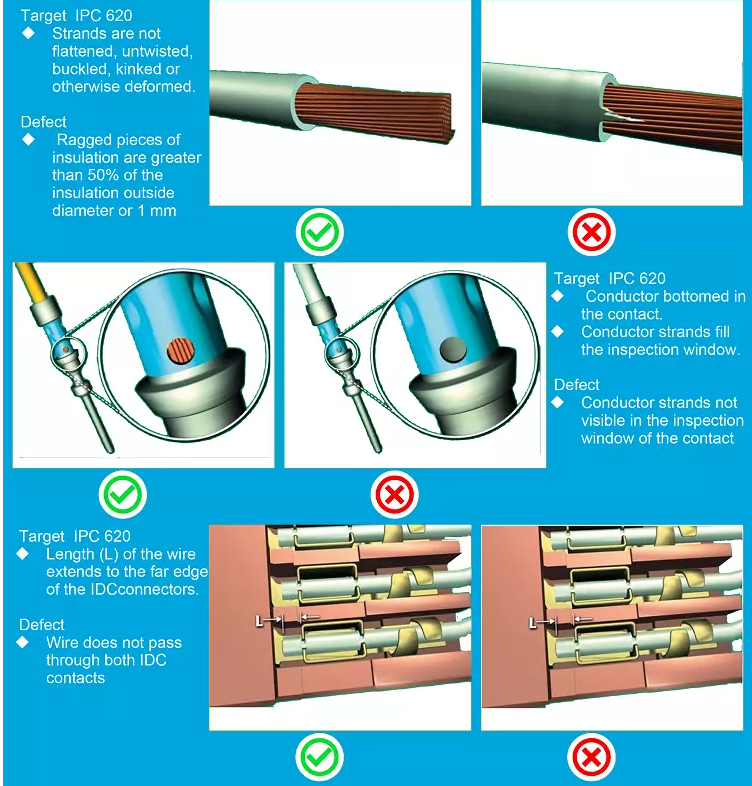 2. Various connectors and terminals using on this complicated wire harness, The connectors for Dashboard are TE original Superseal series, Part Ref 4-1437290-0 with 34 Position Rectangular Housing Connector Plug Black 0.118" (3.00mm),

Design for the automotive industry, AMP Superseal series connectors meet the sealing requirements outlined in IEC 529 and DIN 40050 IP 6.7 waterproof standard.

The cap and plug connector housings incorporate preassembled secondary locks to help insure correct and complete contact insertion into the housing and helps prevent the contacts from backing out during mating. The secondary lock cannot be closed if the contacts are not correctly inserted into the connector housing.

The double spring contact design (main spring and auxiliary anti-overstress spring) insure low insertion and high contact forces.

Wire-to-Board (1.0 mm, 3.00mm) and ECU applications, under hood or any location where sealing is required, suitable for automotive, truck, bus, or off-road vehicles.

The advantages for the ECU connectors are compact system minimizes packaging requirements, sealing reliability proven under harsh conditions, designed for ease of manual harness assembly, engine mounting installed flexiably under hood environments for your vehicles.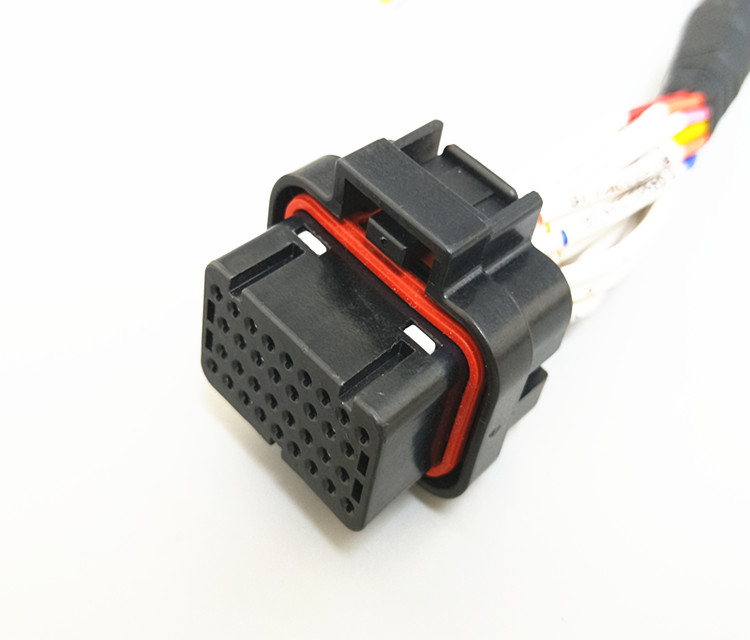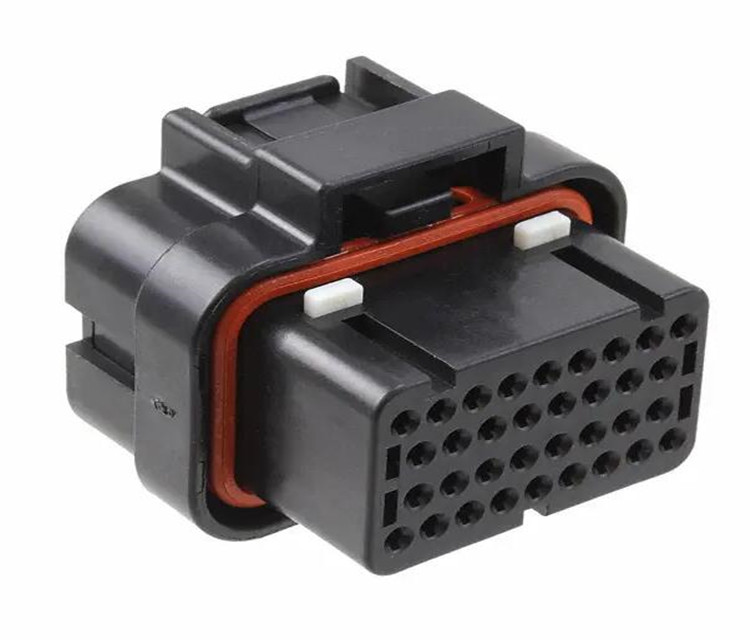 3, This type of Ampseal automotive plug ASSEMBLIES came original from TYCO, which used for auto Powertrain systems, Safety and Security systems, or Body and Chassis systems. AMPSEAL receptacle housings are environmentally sealed and available in 8, 14, 23, and 35 cavity arrangements. They accept size 1.3 mm contacts (up to 17 amps gold, up to 8 amps tin) and feature an integrated latch for mating. The connectory by 4.00 mm Centerline available for 8pins, 14pin, 23pin and 35pin. TE Ampseal Ref P/N 770680-1 connector overmolding mating details below:

Mating Terminal
770520-1/770520-3/770854-1/770854-3
8PIN RECEPTACLE HOUSING
776286-1/776286-2
8PIN wafer
776276-1/776280-1/776275-1/776276-1
14PIN RECEPTACLE HOUSING
776273-1/776273-2/776273-4/776273-5
14PIN WAFER
776266-1/776267-1/776261-1/776262-1
23PIN RECEPTACLE HOUSING
770680-1/770680-2/770680-4/770680-5
23PIN WAFER
770669-1/776087-1/776200-1/776228-1
35PIN RECEPTACLE HOUSING
776164-1/776164-2/776164-4/776164-5
35PIN WAFER
1-776180-1/1-776163-1/776230-1/776231-1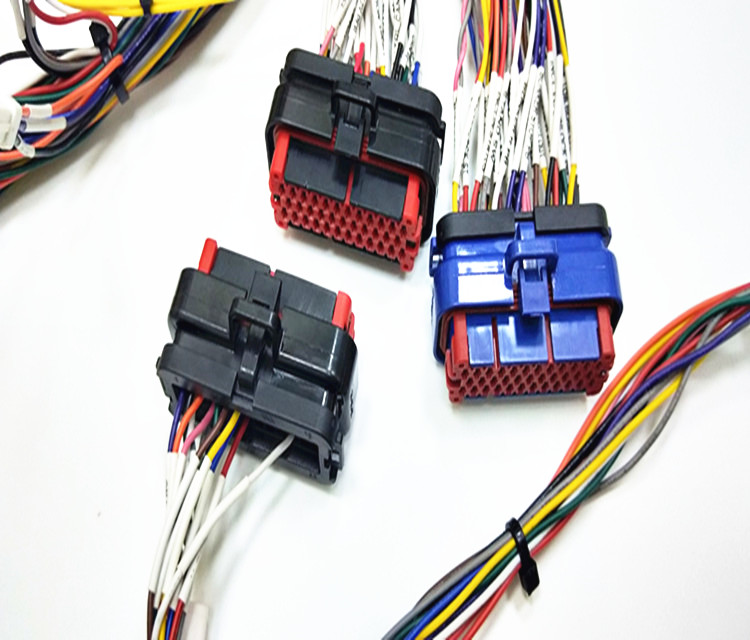 Why Choose ETOP for Your Products?
· Single point of purchase
· Design assistance and engineering support
· Dedicated work cell production control
· Detailed process control documentation
· Logistic planning
·
Inventory management

We have wide range of materials source as below, also we can support customers to make a customized one to replace the original ones, with competitive price and short delivery time. This is our source and advantages.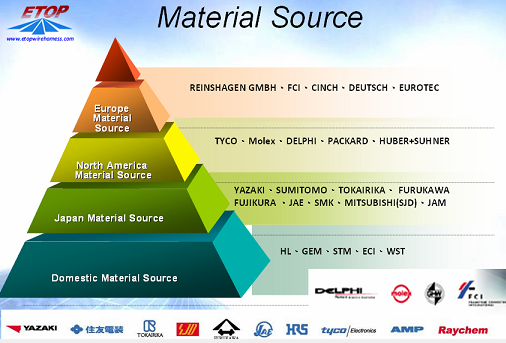 ETOP has professional lab and testing equipment, our quality monitored by our own testing machine, such as 2D-measure machine, tensile tester, terminal sectional measure analysis, metallographic analyzer, X-RAY perspective instrument, cable electric tester, bending tester,

swing tester

, static test machine, aging oven testing machine, etc. Which can support engineers to discover the potential issues. All controlled by

MSA, SPC,

process flow chart and control plan, P-FEMA, etc. Besides, we cooperate with the third-party testing organization for some special test like salt spray test, thermal cycle test, and vibration measurement, IP68 waterproofing, or some authority test etc.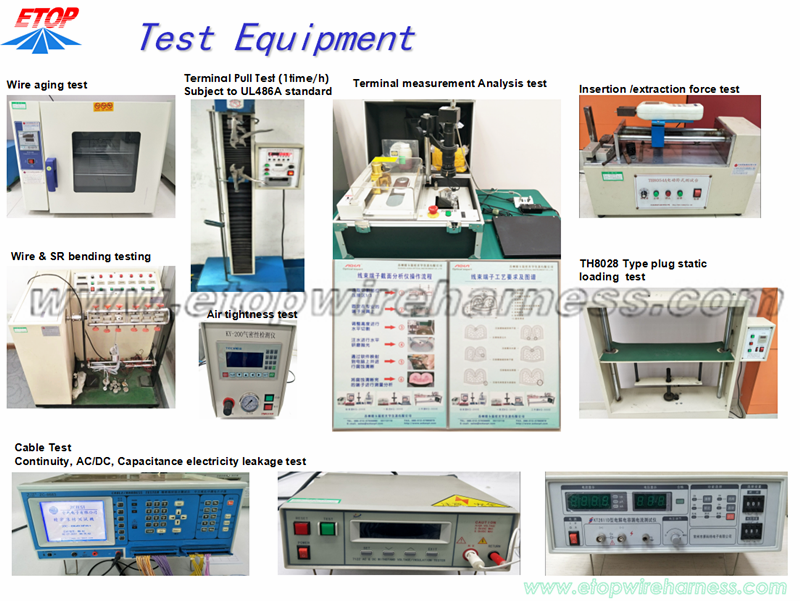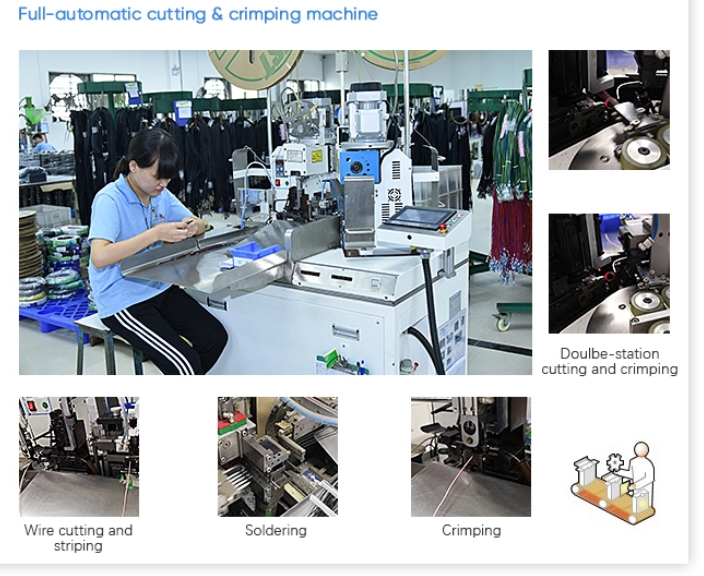 With more than ten years of experience and capabilities assisting our customers in various industry, ETOP would be confident to be your qualified AVL and reliable manufacturing partner. Just be free to contact us if you need any wire-harness solutions or partner for your products. Our professional and experienced team would support you by satisfied skill and service.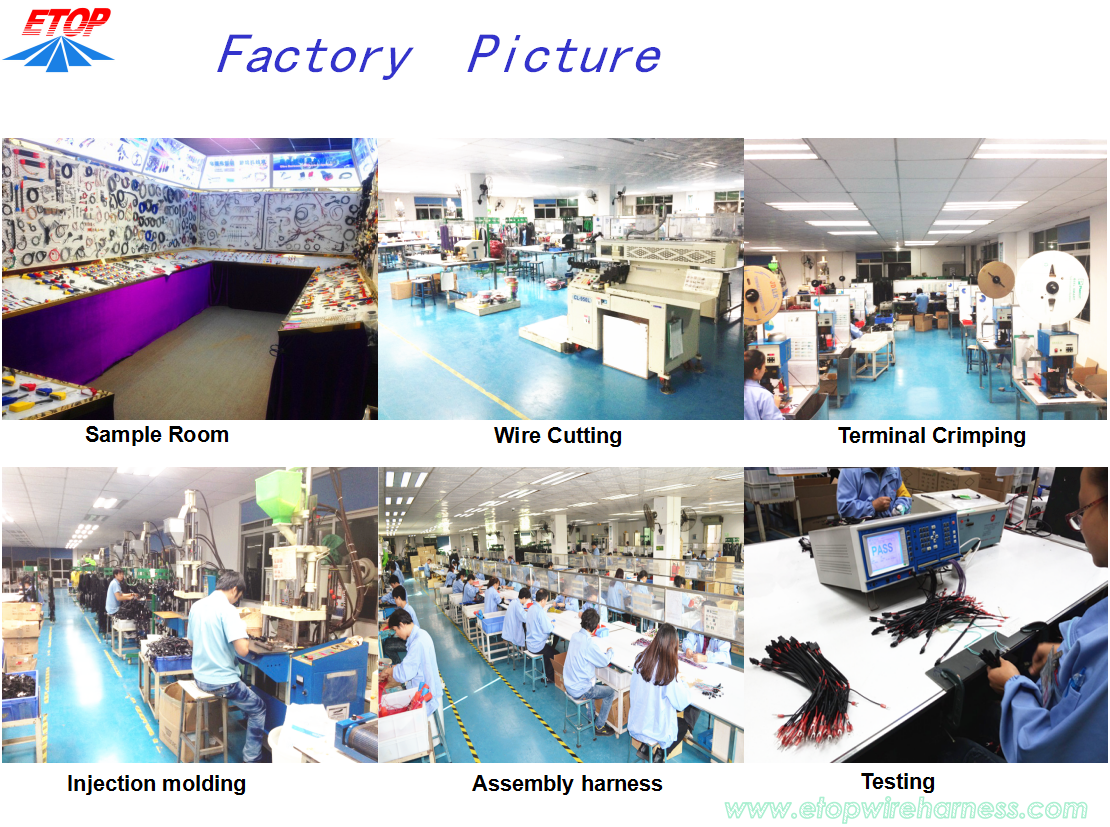 Application:
The wiring harness playing a critical role in " connecting" a variety of components on the automobile dashboard industry, with with ECU 35 Position Rectangular Housing Connector Plug Natural 0.157" (4.00mm). An automotive wiring harness is an assembly of electrical wires, terminals and connectors or an electrical wiring system, that run throughout the entire vehicle and relay information and electric power, used to convey information and energy in automobiles.